Giant Halifax is the exclusive dealer in Nova Scotia for the largest bike brand in the world offering high-performance bicycles with exceptional value for all age groups.
Barry Meisner's been in the bike industry for 30 years, owning a store in Bedford and then converting that business to a Giant-branded store and moving to downtown in 2016. Barry recently decided to retire and has sold his business to partners Mark Gavin and Zachary Steinman.
Zach has managed the store since 2016 and Mark will add extra pedal power as a majority shareholder. The two will maintain the current team, which has 76 years of shared experience in the cycling industry. The shop will continue to offer exceptional service and sales while being the exclusive dealer for Giant in Nova Scotia. "We are committed to our local market and motivated by a love of cycling. We are extremely dedicated to focusing on the electric bike segment Giant has been producing e-bikes since the 1990s and that unrivaled expertise results in a smart and powerful e-bike experience." - Mark Gavin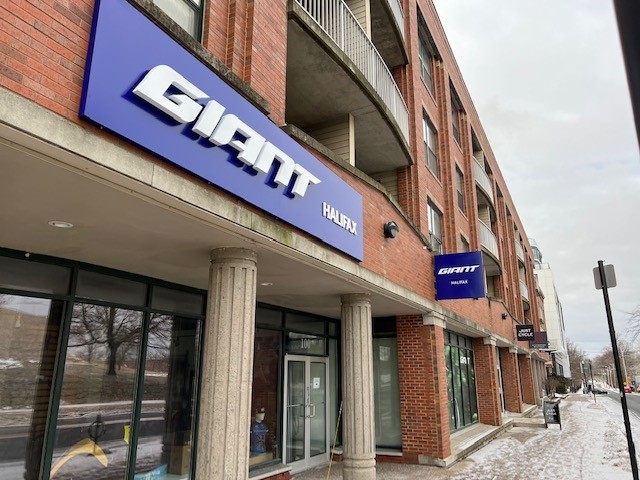 In recent years, cycling consumer needs have changed drastically as people increasingly become more environmentally and health conscious. The e-bike sector is booming, yet still underdeveloped in our region. Giant Halifax's website features in-stock inventory, is updated daily and offers online ordering with in-store pickup. It's an excellent place to see what's available with detailed bike specs.
The Halifax store is also proud to promote Liv bike brand designed for women, by women utilizing a "fit, form and function" development process. The Giant Group was founded in 1972 and is the world's leading brand of high-quality bicycles and cycling gear. Liv, Momentum, and CADEX provide specialized products and services, and all fall under the Giant umbrella.
For further information or comments, please contact:
Mark Gavin
GIANT BICYCLES HALIFAX
gianthalifax@gmail.com
Store: 902-407-2462
5536 Sackville Street, Halifax, Nova Scotia